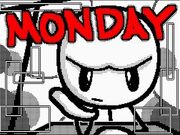 Monday
is a music video made by Anthony.Monday is also a paridoy of Rebeca Black's Friday.
 Seven AM waking up on floor
it's a quarter til' eight
and i got a headache
Gotta Have my Bowl Gotta Have tylenol
Gotta get dressed gotta feed my dog
Tik'n in and on
Everybody Rushin'
Gotta Get down to the Bus stop
Gotta catch my Bus I see meh Friends
Sittin in the Backseat
no one in the frontseat
Gotta make my Mind up
Which seat can i take?
It's Monday Monday
Wanta sleep in on Monday
But i can't cause i have to so to skool skool
It's Monday , Monday
Waking up on Monday
Monday
Everybody knows how this is so uncool
Writin A 10 page essay
Reading boring book all day
Unfun so not Fun
All I want to do is Sleep in
Ad blocker interference detected!
Wikia is a free-to-use site that makes money from advertising. We have a modified experience for viewers using ad blockers

Wikia is not accessible if you've made further modifications. Remove the custom ad blocker rule(s) and the page will load as expected.